Hi, we're the Veermans!
Our story of becoming alpaca farmers started in early 2021 when we saw that an alpaca farm in Northern Ontario was for sale. With a passing whimsical "wouldn't that be fun!" the idea faded away, and not much more thought went into it; it was simply a dream. Some time went on and we noticed the farm was still for sale. That's when we seriously talked about the possibility of becoming alpaca farmers. We loaded the family into the van for the long trip north to visit the farm. We all fell in love! Not just with the alpacas, but with the land as well. There is something so peaceful, and serene about being close to nature, away from the noise and bustle of city life.
Several months later we moved from Southwestern Ontario and began our journey of learning all things alpaca! Who does such a crazy thing, you ask?! We do! We are the Veermans; Patrick, Terri and daughters Jayda and Gabby. Terri and Pat both have extensive entrepreneurial skills to help them along this new journey. Jayda is the dreamer and visionary - full of great ideas we hope to implement as time goes by. Gabby is quickly becoming our Alpaca Whisperer. She is already training some of the alpacas to do alpaca walks. We all love being in the barn and outside connecting with the animals; they bring such a sense of tranquility.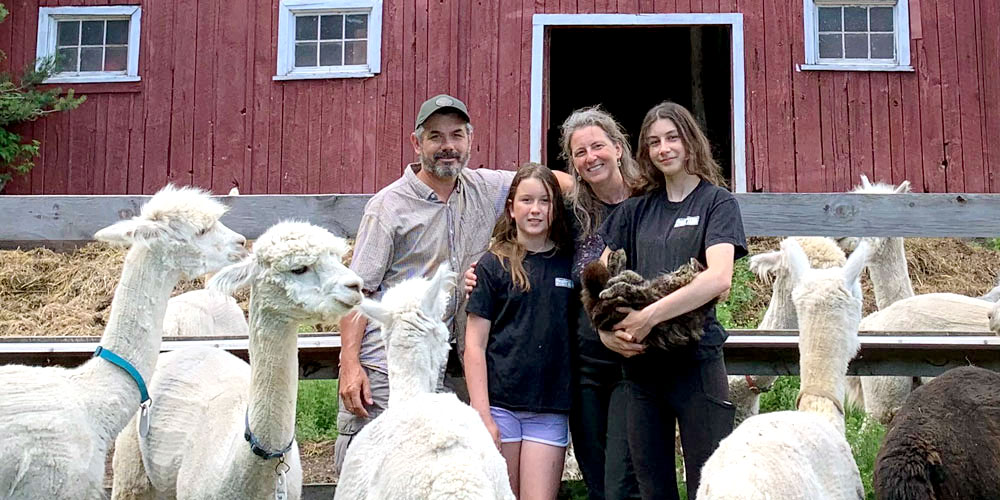 Our community is what makes this place special...
We are all looking forward to the opportunities and learning that farm life can give to each of us, as we move towards being more self-sustainable. By sharing our love of farm life with others, and producing high quality alpaca products, we hope to connect with our local community in a meaningful way.
Apart from our Alpacas, one our favourite things about our farm is it's community. We have several very talented local artisans that help us bring our final products to our shelves. When you buy from Meadowview Alpaca Farm you aren't just supporting our family, you support the community! Thank you!
Roberta
What can we say about this knitting machine, Roberta can't keep her hands still! She makes all our cozy and warm thrum mitts and childrens grow with me mitts. She takes pride in her work and it shows in the finished products.
Carole
We like to refer to Carole as Crafty Carole, always full of fresh and fun ideas. Carole likes getting her hands on the felting loom making scarves, rugs and wall hangings. She also helps us finish off our terry mitts, wet felts dryer balls and she even patches the coats for the alpacas in the winter time. We love the energy Carole brings to the farm, never a dull moment when she's here.
Silas
Silas is a local Mennonite who makes hats, headbands and neck warmers to keep us warm for the winter. He also makes our genuine leather mitt shells from leather we source from Iron Bridge. Silas has a creative mind and helps us bring new products like our felted slippers to fruition.
Shelley
Shelley is one of our talented knitters who makes all our shawls, ponchos and cowls. Her attention to detail is apparent when you look at any of her products. We are thrilled to have Shelley as part of our community.